A-State Sports
Mark Taylor, Assistant Director for Media Relations
JONESBORO – The Arkansas State men's basketball team collected a 67-57 win over Coastal Carolina Monday night at the Convocation Center, running its Sun Belt Conference winning streak to a school-record-tying seven games.
Led by four players scoring in double figures, the Red Wolves improved their record to 18-6 overall and 9-2 in league play.  With the win, A-State remains in a three-way tie with Georgia Southern and Georgia State atop the Sun Belt Conference standings.  Coastal Carolina saw its record move to 11-13 overall and 6-5 in conference play.
A-State junior guard Deven Simms narrowly missed out on his first career double-double with 18 points and nine rebounds both team highs.  Junior forward Tamas Bruce, along with Simms, came off the bench to add 11 points, while senior guard Devin Carter and freshman forward Jahmiah Simmons contributed 12 and 10, respectively.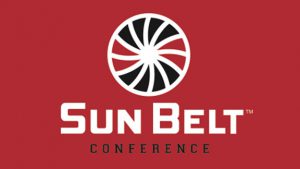 The Chanticleers had three players reach double digits, including Colton Ray-St Cyr with a team-high 17 points.  Demario Beck pulled down a team-high nine rebounds to lead CCU on the boards.
The Red Wolves posted a .434 field goal percentage while holding Coastal Carolina to a .387 percentage.  A-State also held a 40-33 rebounding advantage and saw its bench outscore the Chanticleers' reserves 32-16.
Following one lead change and a pair of ties early in the game, Arkansas State would grab the advantage for good on a Bruce layup at the 14:52 mark that made the score 9-7.  The bucket started a 12-0 run by the Red Wolves over a four minute stretch that was capped by a Simms jumper with 11:13 remaining before the break.
CCU was able to trim the A-State lead back down to six, 21-15, but the Red Wolves outscored the Chanticleers 13-7 the remaining 5:26 to take a 34-22 halftime lead.  Simms scored 12 of his 18 points in the first half to pace A-State, which shot 50 percent.
The Chanticleers went on an 8-2 run the first four minutes of the second half to close the gap to 36-30, but couldn't get any closer.  The Red Wolves responded with an 8-2 run of their own to reopen a double-digit lead.
A-State's advantage would reach a game-high 14 points on two different occasions, including 61-47 with 2:26 left after Simms found Bruce for an alley-oop dunk.  While Carter, A-State's leading scorer, was held to two points in the first half, he scored a team-high 10 in the second.
A-State has now posted two seven-game winning streaks during the same season for the first time in school history.  The Red Wolves have currently won seven consecutive games and also reached the mark from Nov. 14-30.
A-State had four players score in double figures for the eighth time this season and holds an 8-0 record in those games.
Arkansas State is off to a 10-0 start at home for the first time since the 2010-11 season in which the team finished 13-0 at the Convocation Center.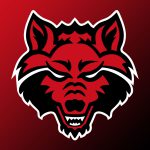 Donte Thomas finished the game with a team-high seven assists, seven rebounds and four points.  He moved into ninth place at A-State for career assists with 291 to his credit.  Now with 145 assists this year, Thomas also moved into a tie with Odie Williams (2001-02) for the 10th most in school history for a single season.
Arkansas State holds an 18-6 overall record through its first 24 games for the first time since the 1997-98 season.  The 1997-98 team posted a 20-6 record through its first 26 contests.
The Red Wolves 18 wins this season already gives them eight more than they had for all of last season, which is tied for the third largest turnaround in A-State history.  The school record for one-year turnarounds in terms of wins is plus 11.
A-State improved to 14-0 this season when reaching 55 points first.
"A big key for us was to try to control tempo today and to make sure they don't get fast break baskets by making sure we don't shoot too quick," McCasland said. "I felt like we did what we needed to do pace wise in order to continue to get good looks and not turn the ball over allowing them to transition baskets. They are an explosive basketball team that shoots a lot of three's and the better we did of keeping the ball in front, I felt like it gave us a better chance to win the game. I felt like our guys executed that tremendously.
"I thought Donte handled the floor game as well as you can do it, because he was solid and consistent and didn't panic or rush. He and Deven Simms were just solid and turned down some looks to get better shots. I thought that was the name of the game. We're glad to have Tamas Bruce play well and glad to have Jahmiah Simmons be active and help us defensively. Devin Carter and Rashad Lindsey came through when it mattered most with big baskets. It was a good team when because we are able to keep them out of transition. We're just excited to be 9-2 in league play."
The Red Wolves head to Texas to face UT Arlington Saturday at 4:30 p.m. and Texas State Monday at 7:00 p.m.