From ASU Sports
Jerry Scott, Assistant Athletics Director for Media Relations
JONESBORO – The Arkansas State Athletics Department and East Arkansas Broadcasters (EAB) announced Saturday that Tim Allison, an Arkansas State University alumnus and four-year football letterman from 1978-81, has joined the EAB/Red Wolves Sports Network's football broadcast team as a color analyst.
"We are excited to have an outstanding A-State alumnus and letterman such as Tim Allison join our radio team in the broadcast booth on game days," said Arkansas State Director of Athletics Terry Mohajir.  "He not only has a strong grasp of our program's history, but is also very knowledgeable about our current team and the game of football.  We know he will be a strong contributor in his new role and add value to our broadcasts."
Allison helped lead A-State to a pair of winning seasons and the 1979 Southland Conference championship during his time with the program.  The standout safety ended his four-year career with 185 tackles, 12 tackles for loss, eight interceptions, six forced fumbles, three fumble recoveries and four sacks.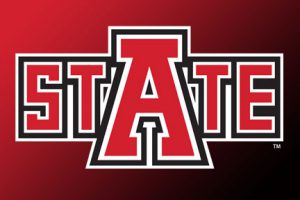 A 1981 All-Southland Conference selection, Allison twice led A-State in forced fumbles and interceptions, including his junior campaign when he picked off a league-high five passes.  He was also part of A-State's 1978 and 1981 teams that both led the Southland Conference in total defense.
"As a lifelong fan, player and alumni of Arkansas State, it is overwhelming to have the opportunity to join the broadcast team," said Allison.  "We will work to bring the same excellence to the broadcast of the games as the fans have come to expect on the field."
An all-state high school and Democrat Super Team school safety from Pocahontas, Ark., Allison earned his bachelor's degree from Arkansas State University and is the owner of Allison Insurance Agency in Jonesboro.  He has spent 30-plus years in the Jonesboro business community.
Allison spent the last two years working on the radio broadcasts for Valley View High School in Jonesboro.  He also called Cabot (Ark.) High School games in the mid-1990's and Jonesboro High School games during two different eras, including part of the 1980's and the early part of this decade.
Allison will join play-by-play commentator Matt Stolz and sideline reporter Brad Bobo on the Red Wolves' game broadcasts.  Stolz is entering his 12th season in his current role, while Bobo has worked with A-State broadcasts the last 14 years.
"You won't find many people that have a passion for Arkansas State University like Tim Allison," said Stolz.  "After playing for Bill Davidson and Larry Lacewell, Tim has a unique perspective and a wealth of football knowledge that I'm excited for him to bring to our broadcasts.  From the moment we mentioned the idea of him becoming a part of our team, Tim has shown an enthusiasm that I know our fans will appreciate.  Every week, our goal is to give our fans the best college football broadcast in the country, and I'm certain that Tim can help us achieve that".
The EAB/Red Wolves Sports Network will also continue its in-depth two-hour pregame show and its "Wolf Howls" program, which will allow listeners to call-in and discuss the game.
Former A-State and All-Sun Belt Conference center Tom Castilaw will take part in the pregame and act as co-host alongside Kara Richey for "Wolf Howls."  Richey is an EAB on-air personality appearing on the highly-rated afternoon sports-talk show "The Drive with Brad Bobo."