Arkansas State head coach Blake Anderson was the final coach to take the stand at the Sun Belt Football Media Day on Monday.
However, the question was still there.
The one in which he is asked if his team finds motivation in again not being picked to win the league.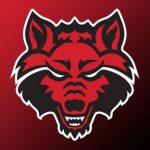 "I was informed today, and I didn't really know this, but we have never been picked to win the league, but we have found a way to win it in four out of the last five years" Anderson said.
"Obviously, it is where we finish not where we begin. We started the season last year picked number two or three, I can't really remember and that tells you how much I pay attention to it. The expectation at our place is high regardless of where the rankings tell us where we are."
The Red Wolves were picked second this year in the preseason football poll, just behind Appalachian State, and each received five of the 11 first-place votes.
But because of the way the schedule falls in 2016, the two teams don't play this year.
Anderson was asked how closely he would be following what the Mountaineers are doing through the season.
"I take the approach that all we can do is control us anyway," Anderson said. "We have to assume that they are going to run the table.
"We can't play them so we can't worry about what someone else is doing. We have to take the approach that they are going to win them all, so we have to do the same. If somewhere along the way that changes, then maybe at that point it is worth a conversation."
A-State begins the season on a Friday night at Centennial Bank Stadium. Kickoff is set for 8 p.m. with a national broadcast on ESPNU.