UCA Sports
Steve East, Assistant Athletic Director for Media Relations
SUGAR LAND, Texas – Playing their second game on a hot, humid day, the University of Central Arkansas Bears could not handle a talented No. 3 seeded Sam Houston State Bearkat team in the 2017 Southland Conference Tournament championship game on Saturday night.
The Bearkats, fresher after only three tournament games – and none on Saturday – downed the fifth-seeded Bears 9-4 to win their second consecutive SLC title and earn their fifth trip to the NCAA Regionals in six years.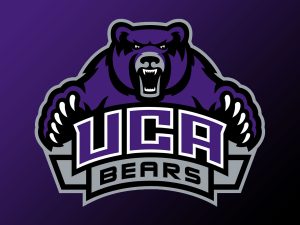 The Bears were coming off a draining 3-0 elimination game win over Houston Baptist earlier in the day in 90-degree temperatures that set them up for their third SLC championship game appearance in five seasons. But UCA looked like the more tired team from the opening inning of their fifth game in four days.
"Our guys kept fighting, I think they just got the breaks,' said UCA head coach Allen Gum, who led the Bears to the 2013 SLC championship and a runnerup finish in 2014. "We didn't get the leadoff hitter out and then we made a couple of physical errors early. Beating Sam, you almost have got to get the leadoff guy out. And then if you miss a double play, that's trouble, also. And their pitcher was outstanding. He was pitching both sides of the plate with command.
"We finally settled down and got some things going. We had a chance to cut it to 4-3 and we got thrown out at the plate. And if you take a look at the box score, it looks worse than it was. They probably had five or six hits that they chopped on the dirt and bounced through the infield. And that's called baseball. They found some holes and they got some breaks.
"We were able to come back and put a little more pressure on them, but we just couldn't get that big timely hit. I don't think we were out of gas, I just think it was there night. They're good. And their speed, it makes it tough when they are bouncing balls on the ground and they can really run.'
The Bearkats scored three times in the first two innings, all unearned runs, after UCA committed a pair of errors. Junior designated hitter Justin McCarty eventually broke up Dakota Mills' no-hitter and perfect game in a big way with a solo home run in the bottom of the fifth, capping a 12-pitch at bat, that cut the UCA deficit to 4-1.
The Bears made it 4-2 in the sixth when Keaton Presley singled up the middle and came around to score on Jansen McCurdy's RBI double to the left-center gap. The rally was cut short when McCurdy was thrown out at the plate on an infield single by Rigo Aguilar.
After the Bearkats pushed the lead to 9-2 in the eighth. UCA responded with two runs in the bottom of the inning, aided by three SHSU errors. But SHSU closer Nick Mikolajchak finished out the game, allowing no hits over the final 1 1/3 innings.
"I'm proud of our guys because we never quit,' Gum said. "They kept fighting. They kept fighting the whole time and never game up, even when we were down quite a bit. They kept fighing and kept plugging.
"Tremendous group, I'm so proud of these guys, as far as the run that we had and the resiliency they had. The leadership from our seniors was outstanding. That was the second game today, and it was hot this morning. Maybe that did have an effect, and maybe that did lead to a couple of the errors. But I think it was just their night. They had it going.
"It was a tough loss today and they're hurt. But when we get a couple of days and we can take a look at this season, where we were at the beginning and how we finished, it was a successful season.'
The Bears, who started SLC play with a 1-5 record but finished 17-13 in league play, close the season with a 34-26 overall record. UCA won at least 30 games for the third time in the past five seasons and tied its best SLC mark with the 17 league victories.
Senior pitcher Brandon Hagerla, senior shortstop Brooks Balisterri, junior outfielder Keaton Presley and junior second baseman Eddy Sanchez were named to the All-Tournament team.