From UCA Sports
Steve East, Assistant Athletic Director for Media Relations
CONWAY – The University of Central Arkansas Bears used a workmanlike 22-12 victory over the Lamar Cardinals on Saturday to improve to 5-0 in the Southland Conference in front of a Homecoming crowd of 10,257 at First Security Field at Estes Stadium.
The No. 18/20 Bears (6-1, 5-0) won their fifth consecutive game behind their usual stingy defense, one that limited the Cardinals (3-4, 3-2) to 220 yards of total offense, and just 15 rushing yards on 34 attempts (0.4 yards per rush). UCA recorded 12 tackles for loss and three sacks to break the Cardinals' three-game winning streak. UCA also improved to 6-0 all-time in the series against Lamar, and 3-0 on "The Stripes.'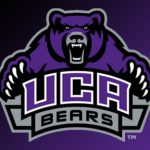 Lamar took an early 3-0 lead on Juan Carranco's 30-yard field goal at the 10:50 mark of the first quarter. UCA took a lead it would not reliquish on a 7-yard touchdown run by freshman running back Keshawn Ledet with 13:46 remaining in the second quarter. Matt Cummins added a 19-yard field goal with eight minutes left for a 10-3 UCA lead. Carranco hit from 26 yards to pull the Cardinals within 10-6 at the half.
Lamar had just four rushing yards at the break, despite having the ball for 17:17 compared to 12:43 for UCA.
The Bears grabbed the momentum for good early in the third quarter when they faked a fourth-down play at the Lamar 42 and quarterback Hayden Hildebrand instead punted. Senior wide receiver Desmond Smith downed the ball at the Lamar 1. Two plays later, UCA senior linebacker Garrett Sharp tackled freshman running back Austin Krautz in the end zone for a safety and a 12-6 lead.
Sharp, from McAllen, Texas and Blinn College, finished with eight tackles, a tackle for loss, a pass breakup and the safety to earn the L.B. Jackman Award that goes annually to the outstanding UCA player in the Homecoming game as voted on by the media.
From there, UCA got a 20-yard touchdown pass from Hildebrand to senior Kelton Warren, with Matt Cummins' PAT giving the Bears a 19-6 advantage. Cummins then added a 38-yard field goal for a 22-6 advantage with 9:51 left in the game. Lamar finally found the end zone when backup quarterback Andrew Allen scored on a two-yard run with 5:28 to play.
Lamar's starting quarterback, Carson Earp, went out on the second series of the game with an injured right shoulder. He was coming off a 412-yard passing effort in the Cardinals' last-second victory over Northwestern State a week ago. Allen finished 17 of 37 for 151 yards, with no touchdowns or interceptions. Zae Giles caught a team-high 7 passes for 63 yards.
For the Bears, Ledet led a multiple-player running attack with 43 yards on 11 carries. Hildebrand, a junior from Bossier City, La., completed 14 of 23 passes for 208 yards, with a touchdown and an interception. Smith caught 6 passes for 100 yards, moving him into third place in all-time receptions at UCA with 190, surpassing Aaron Fairooz (2003-06).
UCA junior punter Patrick Ponder punted four times for a 45.8-yard average. Sophomore linebacker Raphael Garner led the tackle chart for the Bears with 10 stops, while junior linebacker James Graves finished with three tackles for loss and sophomore Chris Terrell added 2.5 tackles for loss.
The Bears finished with 330 yards of offense, averaging 5.3 yards per play. The Cardinals averaged just 2.9 yards. UCA won despite converting just 3 of 13 third-down conversions and finishing with a season-low 15 first downs.
UCA plays its next two games on the road, at Southeastern Louisiana in Hammond, La., next Saturday, and at Stephen F. Austin in Nacogdoches, Texas, on Nov. 5.