UCA Sports
Steve East, Associate Athletic Director for Media Relations
SUGAR LAND, Texas – Junior leftfielder Keaton Presley's offense sparked the University of Central Arkansas Bears to a 15-4 run-rule victory over the Houston Baptist Huskies late Wednesday night in the opening round of the 2017 Southland Conference Tournament at Constellation Field.
Presley, from Springfield, Mo., hit a three-run home run in the second inning that got the fifth-seeded UCA offense rolling early and moved them into a second-round matchup with top-seeded McNeese State at 7 p.m. Thursday. Presley, who entered the game hitting .293, finished 1 for 2 with 5 RBI (tying his season high at Oklahoma State), with three walks and three runs scored.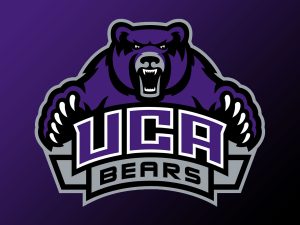 The 15 runs was the most the Bears have scored in the SLC Tournament, dating back to their first appearance in 2012, and the most by any SLC team since Lamar scored 17 in the 2010 championship game
The pitching staff for fourth-seeded HBU (26-24) aided the Bears' cause by walking 14 batters on the night, setting a season high for UCA. Sophomore first baseman Hunter Strong also broke the UCA school record with his 24th double of the season in a seven-run third inning, going 2 for 5 with 2 RBI on the night.
  "This one is huge,' said UCA head coach Allen Gum. "You lose this game you have to play at noon tomorrow. Having the late game, then an early game, that's tough. But I think you got to win the first one. It just puts the law of averages, losing the first one and then coming back (in the loser's bracket), that's tough to do for sure.
"Our guys came out great, started out really good, had all the momentum, put together a big inning. Then we kind of gave it back to them. It took us a long time to recover. And you know how those games go, I didn't know how that was going to turn out. But the good thing is, we recovered  and we got as many innings as we could out of (starter Tyler) Gray and (Jacob) Murray did a great job coming in so we didn't have to use too much pitching.'
The Bears (32-24) loaded the bases in the top of the first inning but managed only one run. Presley and Jansen McCurdy had back-to-back walks to open the game and both advanced on Strong's bunt single. Junior third baseman Rigo Aguilar then drew yet another walk, plating Presley for a 1-0 lead. HBU starter Addison Russ finally got out of the jam with a double play.
The Bears did capitalize in the second inning, scoring three runs on a pair of hits, including Presley's fourth home run of the season, a three-run shot to left center off HBU starter Addison Russ. UCA then exploded for seven runs in the third inning, chasing Addison after he allowed eight earned runs on just four hits with seven walks.
The third-inning rally all came with two outs, beginning with a base hit by senior shortstop Brooks Balisterri, who was 3 for 4 and scored three times. Dusty Wright drew a walk and both runners advanced on a wild pitch. Eddy Sanchez, 3 for 4 with 2 runs and 2 RBI, walked to load the bases and Michael Haun followed with another to score the first run. Zach Carter replaced Russ and promptly walked Presley to make it 6-0.
Junior Jansen McCurdy came through with a two-run single to right and moved to second on an error. Strong then doubled to right center for two more runs, breaking Zak Clark's school record with his 24th double. Aguilar then singled to left center to make it 11-0.
"Scoring first, that's always a good start,"Gum said. "And I just thought we did a really good job of controlling the strike zone. The strike zone was good, it was tough, it was an MLB strike zone tonight. And we handled it well at the plate, got some guys in scoring position. And the big thing tonight, we got some timely hits. And a walk is the same as a single.
"And I think we had a big lead and we a couple of letdowns defensively because of that. That's something, we just have to keep playing regardless of the score.'
The Huskies, the 2015 SLC tournament champions, got three runs back in the bottom of the third on two hits and a UCA error. After adding one run in the sixth on another Presley RBI, the Bears struck for three more in the seventh to force the run rule. Wright had an RBI single and Sanchez added two RBIs with a double to the left-center gap to make it 15-4.
UCA starter Tyler Gray went 5.0 innings, allowing six hits and one earned run and striking out five. Senior Jacob Murray pitched the final two innings, striking out 2 and allowing only one hit.
"Thank goodness we got five (innings) out of Gray," Gum said. "We were hoping, coming in there with that big lead, we'd get seven or eight out of him, but it just didn't work out. But Murray came in a did a good, good job, just throwing strikes.
"And then we added the runs late and ended it in seven. And this was basically, as far as time and energy, like a nine-inning game. If we would have had to go two more, it would have really drug out. So this way, we get to get back to the hotel a little bit earlier and we can get some rest and get ready for the 7:00 game.'
McNeese State, the regular-season champion with a 22-8 league mark, beat No. 8 Lamar 7-5 earlier on Wednesday.
"They're a good ball club," Gum said. "You have to play well. We'll have to pitch it well, we'll have to defend well. We'll have to get guys on, get some timely hits and run the bases really well. They are a complete team. If you win the Southland overall championship, you are a complete team. That's what I've seen every year in this league, the team that wins it, they have everything.
"And they do this year. But you know what, I think we do also right now. I think they way we're playing right now, we have everything clicking.'