UCA Sports
Steve East, Associate Athletic Director for Media Relations
KATY, Texas –  A lock-down defensive effort down the stretch gave the University of Central Arkansas Bears their first Southland Conference Tournament victory on Wednesday night and let them play another day at the Merrell Center.
The seventh-seeded Bears held the sixth-seeded Lamar Cardinals to just seven points over the final 11:41 of the game to win going away 67-57 in first-round action. UCA, which fell behind by as much as nine points early in the second half, outscored Lamar 22-7 from that point to advance to Thursday's second round against No. 3 seed Stephen F. Austin at 7:30 p.m.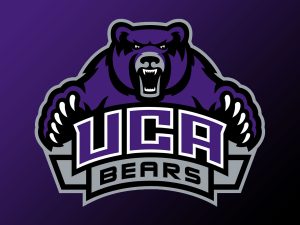 "Really proud of the effort and proud of our win and the fact that we get a chance to play again tomorrow,' said UCA head coach Russ Pennell. "It feels good. I was real excited for our guys. That was a big goal that they had this year, to make the tournament and then at least win a game. The thing I like, they were celebrating in there, but they keep saying three more, three more. And I like that. I love that enthusiasm.'
Surprisingly, the Bears earned it on the defensive end after besting the Cardinals 100-91 in double overtime in their first meeting this season in Beaumont, Texas. UCA held Lamar to just 37.1 percent shooting from the field and just 15.4 percent (4 of 26) from three-point range. In the two games this season against the Bears, Lamar has shot 8 of 57 (14 percent) from beyond the arc.
"I think it was the type of game that maybe we needed, it was just a gut-check,' said Pennell, who brought his team to the SLC Tournament for the second consecutive year, a first for UCA's men's program. "We got down and we took a time out and and I grabbed Mathieu Kamba and I said 'You're a senior and your career is about to end. You need to do something. And from that point on, he was light's out.
"I was really happy with that, for (seniors) Jordan, Mathieu and Ethan, that was such a big win. I thought our guys showed what I've been seeing all year, kind of the change in our program. And that is some grit and toughness. I thought when we got down eight, we took the time out and you could see they weren't ready to go home yet. And that was probably the thing that was most encouraging to me.'
UCA senior Jordan Howard, named the SLC Player of the Year on Monday, finished with a game-high 26 points, going 9 of 10 from the free-throw line, including 6 of 6 in the final 47 seconds. Freshman Matthew Mondesir finished with 12 points, while Kamba and junior Thatch Unruh had 11 each. But more importantly, a combination of Mondesir, Kamba and senior Ethan Lee held Lamar's first-team All-SLC forward Colton Weisbrod to just five points after he scored a career-high 38 in the first meeting. He made 16 free throws in the first game and one on Wednesday.
"That was an interesting game from our perspective," Pennell said. "Because as we build this program, you have to go through different steps. Last year when we were here, I thought we were just glad to be here.  And I even felt yesterday in practice that there was a different feel about our team, because these guys, especially Mathieu and Jordan and Ethan, who have been here before, they fully intended on coming down here and winning this first game.
"I saw that determination and I saw that grit. And I thought really the details of that was, our defense was really good. I thought the defense and the rebounding is what helped us, and we had some timely buckets. And obviously when we can get Jordan to the free-throw line, that's almost as good as automatic every time.'
The Bears, outscored 17-6 to start the second half, fought their way back into the game with two baskets by Unruh, layups by Kamba and Mondesir and a jumper by Howard that tied it at 50 at the 10-minute mark. From there, it was all UCA, with the Bears getting a key three-pointer and a rebound basket from 7-foot freshman center Hayden Koval in a span of 1:30. Over the final 1:25, Kamba put in a rebound basket and Howard nailed six free throws in a row to end it.
"When we got down nine and took the time out, I got on them a little bit,' said Pennell. "But I challenged them more that you're letting an opportunity slip through your hands. And I knew it wasn't anything more than effort. It wasn't like their schemes or our lack of schemes. It was just we had to give a little bit more effort.
"So for us to do that, and win it on that (defensive) end of the floor, was really, really phenomenal.'
UCA and SFA split the two regular-season meetings, with the Bears winning 100-92 in Conway on Jan. 24 and the Lumberjacks getting a 97-62 win on their home floor on Feb. 21. The winner of that quarterfinal game takes on No. 2 seed Nicholls State at 7:30 Friday in the semifinals. The SLC championship game is set for 8 p.m. Saturday on ESPN2.