Smoke & Tonic is the Best Bar in Claremore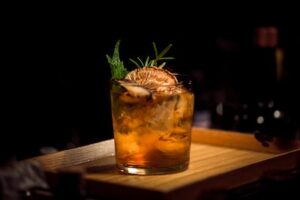 Smoke & Tonic is a Claremore bar and restaurant located in downtown Claremore. This bar is owned and operated by Justin Michael, a known Tulsa entrepreneur who also owns another Claremore business, The Haberdashery, which is a modern gentlemen's retail store and salon.
Justin Michael innovates to create spaces of ambiance for his customers. The vibe at Smoke & Tonic comes right out of the pages of an Ernest Hemingway novel. In fact, this famous author is one of the inspirations for the bar. Justin Michael happened upon an old cocktail recipe book including recipes from many famous novelists and authors, which included Ernest Hemingway. This gave him a vision of a lounge that served these authentic recipes.
Not only is Smoke & Tonic a bar and a restaurant, but it also has a cigar lounge for those who like to sit back and relax in a social environment. You can purchase fine-crafted tobacco at the counter and enjoy the cigar in the lounge.
Areas of Focus
If you're looking for a place to take a date, Smoke & Tonic provides a taste of mystery and romance. It's also suited for business meetings, social outings, and just a fun place to enjoy the night. You can try one of the authentic cocktails, smoke a cigar, or have something to eat. Here are the areas of focus at Smoke & Tonic:
Bar and Lounge
Cocktail Bar
Cigar Lounge
Restaurant
Micro-Brew Beer
Smoke & Tonic supports local and small businesses by selling locally sourced craft micro-brews, hand-picked spirits, and quality tobacco products. If you'd like to know more about Smoke & Tonic, contact them today.
Business Information
Smoke & Tonic
(918) 704-6492
407 B W. Will Rogers Blvd Claremore, Oklahoma 74017