From ATU Sports
CONWAY – The Arkansas Tech cross country team put together some record-setting performances as the Golden Suns came away from the UCA Open with a third-place finish Saturday morning at Beaverfork Lake Park in Conway, Ark.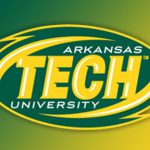 The Suns scored a 92 as a team in the 4K race, finishing ahead of conference foes Southern Arkansas, Ouachita Baptist, and Arkansas-Monticello as well as ahead of Division I schools Arkansas-Little Rock and Arkansas-Pine Bluff in the 11-team race.
Cami Hedstrom pitched another head-turning performance, setting the Golden Suns individual record in the 4K with a time of 15:27.5 and coming away with a ninth-place finish. Hedstrom broke the previous record of 15:45.67 set by Eimear O'Brien back in 2005. Hedstrom also got the opportunity to run against her twin sister, Carmen Hedstrom who competes for Arkansas-Fort Smith.
Shannon McLaughlin also cashed in on a 15th place finish, crossing the finish line in 15:36.1 and setting the Golden Suns' second-best time in the 4K. Amy Riera came away with 17th(scoring 16th) with a time of 15:45.9, setting the fourth-best 4K mark in Tech history.
Logan Edwards and Mary Simmons finished back-to-back in 35th and 36th respectively (scoring 32nd and 33rd) with times of 16:34 and 16.34.2 to round out the scoring for the Suns.
GOLDEN SUNS TIMES AND PLACES
Cami Hedstrom – 15:27.5 – 9th
Shannon McLaughlin – 15:36.1 – 15th
Amy Riera – 15:45.9 – 17th
Logan Edwards – 16:34 – 32nd
Mary Simmons – 16:34.2 – 33rd
Kami Ward – 16:47.6 – 39th
Mallory Morris – 17:34.4 – 60th
Megan Bradley – 17:39.3 – 62nd
Adrianna Simmons – 18:05.2 – 70th
Angel Mapp – 18:41.3 – 77th
NEXT UP
Next Saturday, the Golden Suns will travel to Joplin, Mo. for the Southern Stampede hosted by Missouri Southern. Start time for the race is slated for 8 a.m.