By Dustin Schandevel
Everyone gets that feeling. The feeling when you know you are good at something and better than others. For Autumn Humes, her feeling was about softball and it occurred to her when she was 14 years old.
"When I was in eighth grade, I decided I wanted to play softball in college," Humes said. "I got recruited by Harding in ninth grade and I committed that following summer."
Humes was on her first softball team when she was 6 years old and her mom was the coach. She started pitching when she joined a traveling team at age 12. Humes said things did not start out easy for her.
"I really wasn't the best when I was younger," Humes said. "I was the last string pitcher on my tournament team. Athleticism doesn't come naturally to me and I had to work really hard to be successful."
Humes credited her father, Chris Humes, on molding her into the person and player she is today.
"He has always pushed me to be the best I could be," Humes said. "He taught me everything I know about softball and even got to coach me in high school."
Humes grew up in Bald Knob, Arkansas and in fifth grade, things changed. Her family moved across town and with the new house came a barn that became a very special place for Humes.
The barn was originally set up for the previous owner to teach gymnastics, but once the Humes purchased it, remodeling was underway.
Humes' father replaced the flooring with indoor and outdoor carpet and turf. He also set up nets for hitting cages and bought a pitching machine. Humes said she practiced in the barn with her dad every night and worked to reach the goals she set for herself.
"He knew a lot about the game and he learned with me," Humes said. "We would experience stuff together through practice and games."
Humes grew fond of hitting after she connected on her first home run in seventh grade. Before the hit, she had convinced herself she would never hit one over the fence.
"I hit last on my team. Back when you were little, they put the bad kids at the end.
"I had nothing to lose and when the ball was pitched I swung as hard as I could and was like, 'Oh my gosh, I hit it over the fence!'"
Humes said she was then motivated to be a solid hitter and pitcher at the same time because a lot of players could not do both successfully.
Entering her freshman year at Bald Knob High School, Humes said people were already talking about her. The team had two senior pitchers on the roster and they were excited to add someone who grew up playing travel softball.
"I didn't really know what to expect going into my freshman year," Humes said. "It was a learning experience for me."
The Bulldogs reached the state semifinals that year but lost. Humes admitted to something she had never said out loud when describing the loss.
"I remember when we met in the circle with one out and bases loaded and I addressed my team.
"I told them that I wanted to win so badly and then we lost. I learned I was being selfish."
Her sophomore year was a year of firsts on and off the field. Her parents fostered her two younger cousins, a 5-year-old girl and 1-year-old boy, and later adopted them. Humes went from having one sister to three total siblings. She said times were hard at the beginning of the adoption.
"When we adopted them we took in the first boy of the family," Humes said. "My mom didn't know the first thing about having a boy.
"It was really hard on my family to adjust from having two kids to four. I remember seeing my parents cry because they didn't think the girl would love them like she loved her biological parents."
Looking back on it now, Humes said God was working through the situation.
"You can just see that God put them in our life for a specific reason," Humes said. "I look back and realize that it was worth every struggle because they're awesome."
On the field, Humes led her team to the school's first ever state championship. She said it was a solid year for her and it was an improvement from freshman year.
Humes faced challenges and pressure during her junior year.
"Bald Knob is such a small town and so everyone knew who I was and there were a lot of expectations," Humes said. "My junior and senior year, everybody expected us to win state since we did the previous year and I was expected to strike everyone out being the only pitcher on the team."
Humes said she had to remind herself that she was a good player no matter what the outcome of each game was. The community saw just how good she was after she led her team to another state title, finishing with a 30-2 record.
Humes went 26-1 pitching with a 0.41 ERA. She struck out 246 batters in just 155 innings pitched. She only allowed 55 hits and walked 23 batters. She pitched 11 shutouts and three perfect games.
As for behind the plate, Humes had a .543 batting average with 11 home runs and 67 RBIs on the year.
Humes was awarded Gatorade Player of the Year after leading her team to back-to-back state titles. One softball player from each state was selected for the award.
She started giving pitching and batting lessons to girls in her town and surrounding areas her junior year. She said that girls would meet her at the barn and it became a summer and fall trend.
"I remember when I was that little and I had the same dream they did and I took lessons from someone," Humes said. "I do get paid, but I would do it for free if that's what it came down to."
Humes entered senior year with mixed emotions.
"I felt a lot of pressure my senior year because I knew it was my last year and it would be terrible if we didn't win it all," Humes said. "I was also reminding myself that whatever happens, I've had an awesome run and I had things to look forward to with Harding coming up."
The Bulldogs went on to win the state championship for the third year in a row and Humes' pitching numbers improved.
She went 31-0 on the year with a 0.34 ERA. She struck out 295 batters in 185 innings. She pitched 19 shutouts and three perfect games. She was a four-time 3A First Team All-State selection.
She had a .527 batting average with 11 home runs and 54 RBIs. She was awarded Gatorade Player of the Year for Arkansas for the second year in a row. She also finished high school with a 4.02 GPA.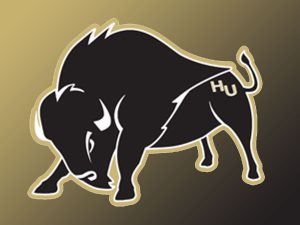 Humes said she committed to Harding so early in her career so she could enjoy the game without feeling stress from recruiters.
"Pressure was lifted off my shoulders. When you're being recruited, you feel like you have to be perfect all the time because someone's always watching.
"When I committed, I could just play softball and have fun because I knew what the future held."
Humes said that she saw girls commit to Division I schools and then not play half their careers. She wanted to attend a school where she would play the whole time she was there and knew Harding was the right place.
"I feel like God has given me the talent to play the game and in return I get to bring honor and glory to Him," Humes said. "I love Harding because we're given the opportunity to pray on the field and no one says anything."
Humes traveled to Nicaragua with Highway Church of Christ the summer before her freshman year at Harding and got to teach the girls how to play softball. She has plans to return next summer.
"The guys can play baseball or soccer and the girls are just stuck in the house with nothing to do," Humes said. "I pitched underhanded and everyone was surprised because they didn't understand that a girl pitched like that."
Humes joined the Lady Bisons knowing she would not be the ace of the pitching staff and it has worked out well for her.
"It's great because I don't have so much pressure on my shoulders and I'm sure she (senior pitcher Hannah Johnson) feels the same way," Humes said. "When I'm not at my best, she's there to pick me up and vice versa so it works out really well."
The biggest adjustment for Humes has been playing without her parents in the stands. Her parents moved to Dumas, Texas last November.
"My parents being far away is hard because I came to Harding since it was close to home and then they moved to Texas," Humes said. "I'm used to them attending every single game."
The Lady Bisons are currently 29-3 and Humes holds a 13-1 record with a 1.90 ERA. She's batting .397 with six home runs.
Humes threw the first perfect game in Harding's history on Mar. 13 against Ouachita Baptist University. She had nine strikeouts in five innings pitched.
"I want to lead us as far as we can go and God wants us to go," Humes said. "One of my main goals for this year is to be dependable."
Bald Knob Bulldogs graphic from Twitter.