LR Athletics
Patrick Walsh, Associate Director of Communications
FOLEY, Ala. – It's Championship Week for the Trojans as Little Rock Volleyball heads to Foley, Alabama for the 2020 Sun Belt Conference Volleyball Tournament.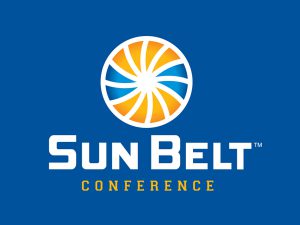 The 2020 championship event has a new "World Cup" style format with pool play leading to a single elimination bracket round that will determine the league's tournament champion and who will receive the automatic bid to the NCAA Tournament, to be held in the spring.
The Trojans will face Louisiana (Wednesday) and Georgia State (Thursday) in pool play this week with the goal of advancing to the semifinal round of bracket play. All matches this week will be broadcast live on ESPN+.
Series History
Louisiana: Little Rock leads, 39-16, but the Ragin' Cajuns have won five straight
Georgia State: Little Rock leads, 8-2, and the Trojans have won eight of the last nine
Three Things to Know
The Only Game in Town
Or even the nation. The Sun Belt Conference will be the only conference to host a conference volleyball championship this fall when 12 teams descend upon the Foley Sports Complex this week. That is a credit to a league that has focused on mask wearing, social distancing and following local and state health guidelines since competition began in September.
One You Know, One You Don't
As Little Rock prepares to face Louisiana and Georgia State in pool play this week, one opponent will be familiar while the other won't. The Trojans played a three-match series with the Ragin' Cajuns this year and while the matches didn't end in Little Rock's favor, all three were incredibly close. Meanwhile, the Sun Belt's division-only schedule did not allow the Trojans to face Georgia State this season.
Flair for the Dramatic
If you're watching Little Rock Volleyball, you are guaranteed to be entertained. The Trojans have played an astounding 21 sets this year that have been determined by just two points. Moreover, Little Rock has played 13 sets this year that have required extra points in order to determine a victor.