Sun Belt Communications
Nancy Yasharoff, Senior Associate Commissioner
NEW ORLEANS –  The Sun Belt  announced its men's basketball player of the week on Monday.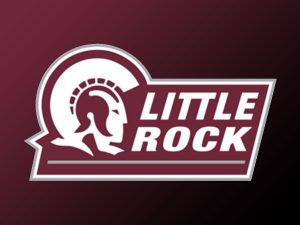 Ben Coupet Jr., Little Rock
(Sr, G – Chicago, Ill.)
Coupet scored a combined 53 points on 77.3% shooting (17-of-22), including a blistering 73.3% (11-of-15) from three point range and 80.0% (8-of-10) from the line, helping lead Little Rock to a pair of wins in the opening weekend of Sun Belt conference play. The senior from Chicago scored a career high 27 points on 10-of-13 shooting and was 5-of-7 from three and 2-for-2 from the line in the Trojans' 102-93 win over UT Arlington Friday.
On Saturday, Coupet scored 26 points on 7-of-9 shooting and 6-of-8 from three-point range leading the Trojans to a 75-62 win. He scored 18 of his 26 points in the second half, helping the Trojans pull away. The senior guard also added six rebounds and an assist. He played 38 minutes in both games.
This season, the 12 Sun Belt schools will be split into a West Division and an East Division and will play divisional opponents during the regular season to minimize travel amid the COVID-19 pandemic.
All 12 schools will compete in the Sun Belt Conference Championship which will be held March 5-8, 2021 in Pensacola, Fla.
Player of the Week Recap
Week 1 – Justin Roberts, Georgia State
Week 2 – Markquis Nowell, Little Rock
Week 3 – Adrian Delph, App State
Week 4 – DeVante' Jones, Coastal Carolina
Week 5 – Corey Allen, Georgia State
Week 6 – Ben Coupet Jr., Little Rock