From Hendrix Sports
Cody Usher, Sports Information Director
BIRMINGHAM, Ala. – The Hendrix College football team remained undefeated with a 47-17 Southern Athletic Association victory at Birmingham-Southern College Saturday afternoon.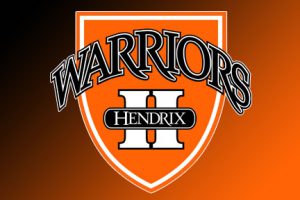 The #24 Warriors (5-0, 3-0) tallied 614 yards of total offense with 366 through the air and 248 on the ground. They averaged 7.5 yards per carry, breaking the school record for the second time this season.
Meanwhile, the defense limited the Panthers (1-5, 1-3) 320 total yards.
Hendrix opened the game with 17 points in the first quarter. Senior Steve Crenshaw booted a 24-yard field goal on their first drive. Senior quarterback Seth Peters connected with junior Nate Hodapp for a 65-yard touchdown. Senior tailback Dayton Winn punched another score in from the one to give the Orange & Black a 17-0 lead.
BSC opened the second quarter with a 34-yard field goal from Ryder Andrews. Winn scored an 48-yard run and Crenshaw hit a 28-yard field goal to give Hendrix a 27-3 advantage at halftime.
The Panthers scored at the 6:34 mark in the third when Kerrigan Pennington threw a three-yard pass to Jonathan Scaringe. The Warriors answered with a Peters one-yard scramble to make the game 34-10 headed into the final period.
In the fourth, junior running back Mason Millsaps ran for a 13-yard TD. After another Panther scored, Hendrix added the final nail with a 24-yard pass from freshman Miles Thompson to freshman Dustin McNeely.
Hendrix Notes
– Winn finished with 10 carries for 126 yards and two touchdowns.
– Millsaps added seven carries for 56 yards and a score.
– Peters went 20-of-32 passing for 396 yards and a TD, along with one touchdown rushing.
– Thompson finished 4-of-6 for 70 yards and a touchdown.
– Hodapp tallied six catches for a career-high 152 yards and a score.
– Junior safety Michael Kramer led the Warrior defense with eight tackles.
– Junior linebacker Jake Brantely adds six tackles, including a sack.
– Senior defensive end Harrison Newton had five tackles, including one for a loss.
– Senior defensive end Gray Stanton also had five tackles and two pass breakups.
– Freshman Aric Sislo recorded a sack.
– Freshman twin brothers Cory and Chad McGonigal each had an interception. Cory ran his back 25 yards.
Birmingham-Southern Notes
– Pennington threw for 118 yards and two touchdowns on 10-18 with one interception.
– Samir Usman ran 16 times for 84 yards.
– Scaringe had five catches for 63 yards and a touchdown.
– Matthew Byers led the Panthers with nine solo tackles.
Up Next
Hendrix will return home for a conference game against Berry College next Saturday.