By Ian Craft
Over the last few years, OBU volleyball has been close, very close. With 15 wins in 2014 and 16 wins in of 2013 and 2015, the Tigers have been on the brink of greatness.
This season, the Tigers are sitting atop the rankings at 10-3. With a 5-1 home record and an impressive 4-0 record on neutral sites, the Tigers volleyball team is taking Ouachita by storm.
Nine of Ouachita's 10 wins have come from 3-0 straight set victories. The bottom line is, if you haven't been out to see the Tigers play this year, you are missing out on the best thing to hit the court since Tiger Traks had to be held indoors.
One of the key reasons the team has succeeded in such amazing fashion is its senior leadership. Jayme Shell, a senior Kinesiology fitness major with minors in nutrition/dietetics and biology from Batesville, has managed to find time in her busy academic schedule to help lead the Tigers on this run.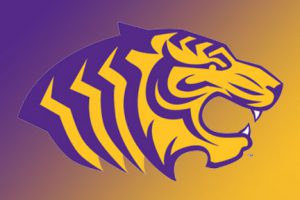 "This year has been amazing," Shell said. "Our team chemistry, athleticism and passion has been incredible. Our team is so strong all the way around. This means anyone could be put in a game and do exactly what we need.
"We really love each other and have fun together even though we may not like each other at moments. But that's what makes us family. I'm so excited where we are as a team and look forward to the rest of a great senior year."
Shell has been playing volleyball for a while, but now, coming up on her last year, she says she didn't always want to play the game she now loves.
"I started playing volleyball in the 9th grade after trying out in 7th and 8th grade, but not liking it and being busy with other sports to get involved. After giving it one more try in the 9th grade, I loved it. It ended up being the best sport for me," Shell said.
Then she started out, peer pressure actually played a positive role in getting her into the sport in which she would turn out to be a star.
"My friends' influence is what made me decide to play. All five of my high school girl friends played and begged me to play with them so we could all be together. I guess you could say I gave into that peer pressure," Shell said.
After a few years of playing seriously, Shell began to get noticed by coaches. Her exceptional play in high school did not go unnoticed by college teams.
"I decided that I wanted to play in college my junior year when I started gaining more experience, getting noticed by coaches, getting some honors and truly falling in love with the sport. I couldn't see myself not playing anymore after my senior year of high school, and that's when I knew I wanted to play in college," Shell said.
When you're a player as talented as Shell, you have plenty of options to choose from when colleges come calling. She knew Ouachita was the place almost from the beginning, though.
"I picked OBU, not only because I had numerous family members attend, like seriously, 12, but because it's where I felt at home. I loved my coaches and teammates from the very first day I tried out, and that made it really easy to pick Ouachita," Shell said.
Collegiate volleyball has challenged and stretched Shell as a an athlete.
"Volleyball has disciplined me physically and mentally, has taught me how to manage my time and how to move on to the next moment. Volleyball means so much to me and has been such a major part of my life; it's hard for me to imagine that I'm completing my last year," Shell said.
Now a senior in college, Shell likes to remember the days four years ago  before tests and stress. Her favorite volleyball memory of all time comes from those days.
"My favorite volleyball memory would be when my team made it to the semifinals of the State Tournament my senior year of high school. We had worked so hard, and despite some adversities, we were able to enjoy that moment as a team," Shell said.
What makes volleyball so special and so much fun to watch is that, unlike some other sports that can be dominated by having one exceptional player on your team, volleyball requires an entire team that is on the same page. Everyone has to utilize the team's talents. Teamwork has played a big part in Shell's career.
"My favorite memory with the team this year has, strangely enough, been a practice one Sunday evening before [the] season had even started. We were all tired from the previous week of practices, and I really wasn't sure how that practice was about to go, but we came out with lots of energy and had one of the most fun, yet productive practices probably ever," Shell said.
Shell feels that she has grown as both a player and a person, thanks to the sport she loves.
"I think the biggest difference from when I started playing till now would be my confidence on and off the court. I was very quiet and shy in high school (and still am sometimes), but volleyball allowed me to get out of my comfort zone and learn how to be confident in my abilities, who I am as a person, and as a daughter of Christ."
Volleyball has made a huge impact in her life, and Shell sees herself as a coach of a club volleyball team in the future. She got an opportunity to coach last year and loved getting to learn the sport from a different perspective.
So if you haven't gone out to see the team play this year, make sure to find your way out to SPEC, as the Lady Tigers have home matchups against Southern Nazarene and the Bison of Oklahoma Baptist in the upcoming weeks.
While you're at it, make sure to make Shell a huge poster and cheer extra loud in the stands to show her how much you appreciate what she's done for OBU volleyball the past four years.
This story was first posted on the OBU Signal and was republished with permission.