Simple Simon's Pizza is Tonkawa's Best Pizza Restaurant
Simple Simon's Pizza in Tonkawa has unique pizzas, Calizones, and sandwiches that are made fresh daily with quality ingredients that you can count on for a high-value, mouth-watering meal.
Simple Simon's Pizza started in 1987 with just one location, and now it has over 200 locations, including the one in Tonkawa.
You can choose to create your own pizza or choose a specialty pizza such as the Chicken Bacon Ranch or the Fiesta. Or, if you're in the mood for something besides pizza, Simple Simon's Pizza also offers a selection of Calizones, stromboli, wings, sandwiches, and breadsticks.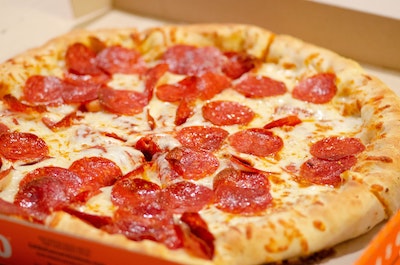 Whatever you choose to order for your main course, you can top it off with some dessert pizza or cinnamon sticks.
Simple Simon's Pizza's Tonkawa, OK restaurant offers carryout, catering, and dine-in options, including a lunch buffet Sunday through Friday and a Tuesday night dinner buffet. Simple Simon's also offers a variety of seasonal specials and deals, so check back regularly to see what's available.
Simple Simon's Pizza believes in incorporating family values into everything they do, so when you walk in the door, you'll feel like you're one of the family thanks to their staff's excellent customer service. Plus, the menu has something for everyone, making the restaurant a crowd-pleasing choice for your next get-together with family or friends.
Areas of Focus
Simple Simon's Pizza serves delicious food to the Tonkawa community in a variety of ways.
Pizza Carryout
Pizza Dine-In
Pizza Buffet
Pizza Catering
Learn More About Simple Simon's Pizza
Simple Simon's Pizza
1210 E North Ave.
Tonkawa, OK 74653
580-628-5381
simple-simons-pizza-tonkawa-126.brygid.online/zgrid/proc/site/sitep.jsp