Stu B Que is Broken Arrow's Best Caterer.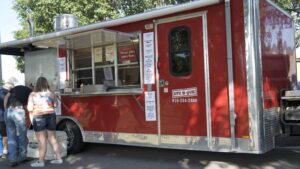 Figuring out food provisions is one of the most important parts of planning any special events. Let's face it; people always expect to be fed when they attend a special event. It's important to find a caterer who can not only communicate effectively throughout the process but also show up on time and provide exceptional food. This description fits Broken Arrow caterer, Stu B Que, perfectly.
Stu B Que is a Broken Arrow catering company owned and operated by Stu Conrad. They have been serving Broken Arrow and the larger Tulsa metropolitan area for years. Not only do they do traditional catering for events, but they also have a catering food truck if you're looking for ways to spice things up a bit.
Stu B Que is known for its delicious slow-smoked BBQ, although all the other items on their menu are just as good. If you're looking for authentic home-cooking catering, Stu B Que is the company to choose from. Stu Conrad is also dedicated to making the process as simple and easy for the people who hire him. From the beginning, you will receive effective communication when it comes to your catering.
Areas of Focus
Stu B Que has experience catering to many different types of events. No matter the event, you can expect the catering crew to show up on schedule and on time so that the guests can enjoy their meal. Stu B Que is dedicated to providing a great service and great food. Whether you're planning a big wedding or a simple work party, you can expect these things when you hire Stu B Que.
Here is a list of their services:
WEDDING CATERING
BBQ CATERING
PHARMACEUTICAL CATERING
CORPORATE CATERING
TULSA REHEARSAL CATERING
TAILGATE CATERING
BANQUET CATERING
PARTY CATERING
LUNCH CATERING
TULSA LUNCH CATERING
FOOD TRUCK CATERING
If you need a reliable catering service, contact Stu B Que today.
Contact Information
Stu B Que
4920 E Kenosha St Broken Arrow, OK 74014
(918) 724-7886