Stu-B-Que is Tulsa's Premier Wedding BBQ Catering Service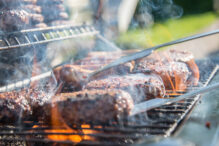 Planning a wedding can be a long and strenuous process, to make it easier, look no further than the BBQ catering of Stu-B-Que. Your guest will rave at the tastiest Wedding Catering for Tulsa. Our team will ensure the food ordered on the menu arrives on time in order to ensure you are well taken care of. Serving a large number of locations in the Tulsa area, chose Stu-B-Que to make sure you have a wedding no one will forget.
At Stu-B-Que, our intelligent and experienced staff will ensure one less worry that weighs on you during the planning process of your wedding. Our timely service will guarantee that your valued guests will be taken well care of. We are dedicated to serving only the best food to ensure the festivities are enjoyed by all. Contact Stu-B-Que today to cross another item off your wedding planning needs!
Menus Available for Tulsa Wedding Catering
No matter how big or how small your wedding may be, Stu-B-Que's food truck catering features various-sized menus that ensure your guests won't go home hungry. If any guest requires special dietary needs, we will try to accommodate their needs. We can design menus that suit your needs and budget for all parts of the celebration including:
Large or small reception dinners

Formal sit-down or casual buffet receptions

Backyard reception barbecues

Homecoming receptions

House Receptions
Learn More About Stu-B-Que's Tulsa Wedding BBQ Catering
To find out more information regarding this Tulsa wedding BBQ catering service, you can find their contact details below:
Website
Phone Number
Address
4920 E Kenosha, St Broken Arrow, OK 74014