A-State Athletics
Jerry Scott, Associate Athletics Director for Media Relations
JONESBORO – The Sun Belt Conference announced Wednesday that the Arkansas State Athletics Department has officially been named the winner of the 2019-20 Vic Bubas Cup, the league's annual all-sports championship award.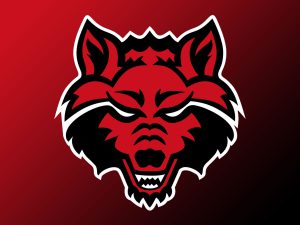 The Red Wolves claimed their third all-time Bubas Cup championship and their first since 1997-98.  A member of the Sun Belt Conference since 1991, A-State also earned the honor in 1994-95.
Arkansas State posted 72 points last year for an average of eight points per sport, which was the second highest in school history behind only its 8.1 mark in 1997-98.  The Red Wolves edged South Alabama by two points in the final standings, while Texas State finished third with 67.0 points.
"This is a great recognition, and we're very proud," said A-State Vice Chancellor for Intercollegiate Athletics Terry Mohajir.  "Winning the Bubas Cup is challenging based on the award's number of sports that we don't participate in, so the fact that we won is a great tribute to all the hard work by our student-athletes, coaches, university leadership and athletics department and ASU System Office staff."
Claiming its first Bubas Cup title in over 20 years, A-State has sponsored 15 of the 17-19 Sun Belt sports since 2001-02.  Last year, the Red Wolves claimed the women's cross country and men's and women's indoor track and field Sun Belt titles, giving them a league-high 21 SBC championships since 2012-13.
The women's soccer team made its first appearance in the Sun Belt Conference Tournament's championship game and the football program made its ninth consecutive bowl game appearance for the 14th longest active streak in the country.  The men's cross country team posted its best finish ever at the Sun Belt Conference Championships, taking second-place honors.
Additionally, the Sun Belt announced earlier this month that A-State recorded the league's top overall GPA with a 3.48 mark for the 2019-20 academic year.  The Red Wolves placed 228 student-athletes on either the Commissioner's List or Academic Honor Roll.