By Dustin Schandevel
Every athlete has heard the phrase "you are not good enough" at some point in his or her career. The way you respond to that statement can make or break your future success.
For Donatella Luckett, he used it as motivation as he went from a small town football player to trying out for professional football teams.
Luckett was born in Canton, Miss., and attended Pisgah Elementary in Sandhill, Mississippi, about 15 minutes from his home. Once he entered seventh grade, he went to Pisgah High that was on the same property as the elementary school.
In fourth grade, he got to play football with fifth and sixth graders and he always caught up to the coach's son and tackled him during pickup games.
His parents could not afford to pay for Luckett to play peewee football but once parents saw how fast he was, they all pitched in to get him on the fifth grade team.
"Everybody knew I was fast," Luckett said. "Parents donated money so I could play and from then on it was all about football."
Luckett said he constantly got suspended from school and he had to sit out his eighth grade year of football due to his actions. He said his mom kept him on track and did not let him stray away from school.
"I love my dad, but I'm a momma's boy," Luckett said. "I got to a point in my life when I was 14, I wanted to stray away from school and get into bad things. My mom was there the whole time trying to teach me the importance of my actions."
Luckett was nominated for an award after being the first freshman in Mississippi to rush for over 1,000 yards and his mindset changed completely.
"My mom was crying because she was so proud," Luckett said. "That was my turning point in life."
Luckett said due to his school having about 400 students in K-12, he played every sport and everyone knew who he was.
After football season was over, Luckett played baseball, track and power lifting all in the spring. He thrived in every sport and won state in power lifting.
"A lot of people feared me because they grew up watching me play," Luckett said. "By senior year, everyone was ready for me to graduate so they would not have to deal with me anymore."
Luckett left everything on the field his senior year. He led his team to a 10-2 record with jaw-dropping stats.
He had 204 carries for 1,888 yards along with 28 rushing touchdowns and two receiving touchdowns. He averaged 157.3 yards a game.
Luckett drew the attention of Mississippi State but a baseball injury and bad grades pushed them away.
"I hit a line drive to the shortstop who was a young freshman. I told him he would never throw me out," Luckett said. "I was messing around so I didn't take off until halfway and when he had it in his hand I tried to make a break for it and I strained my hamstring."
Luckett said that was when he knew all of his scholarships would drop and he went through a depressed stage.
"When my coach told me about Harding, I was against it because I didn't want to go to a Christian school," Luckett said.
But two weeks later, one of the Harding football coaches was on his way to pick up two recruits in Mobile, Alabama and Luckett's coach contacted the coach from Harding to take him on the trip as well.
"They had never heard of me or seen film of my game," Luckett said.
Luckett impressed as he walked on the Harding football team and got a scholarship in his spring semester of freshman year.
"When I first got to Harding, I knew the guys playing would be ready and I loved it," Luckett said. "I would see the guys walk around all big and I would just smile at them."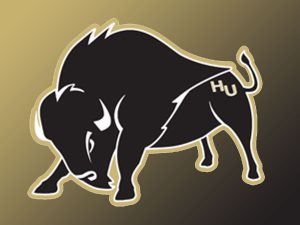 Luckett said after the tackling drill, everyone knew he was not a typical freshman player.
"It was fun. When you come in, you get to dominate and destroy.
"From then on, I had my swagger. I wasn't afraid of anything."
Luckett rushed for 333 yards in his freshman year with one touchdown. Luckett moved to wide receiver a week before his first game of sophomore season after his coach thought it would bring more wins.
"My coach told me I could be the number one running back in the nation but not win any games," Luckett said. "I had to make my game more physical."
The move to wide receiver treated Luckett well as he put up 79 receptions with 1625 receiving yards and 15 touchdowns in three seasons. He was selected on the First-team All-Great American Conference his junior and senior seasons.
Luckett was invited to the Senior Bowl in Mobile, Ala., and that was when he realized he could go pro.
"I didn't realize it was real until the Senior Bowl CEO came to practice," Luckett said. "I didn't think about getting a big head or slacking off because I wasn't born in that kind of environment."
Luckett did not play much during the game because he was downplayed being from a Division II school. He had one pass thrown to him but it was behind him.
Luckett took his last semester at Harding off so he could train for the NFL Combine. He went to Carlsbad, Calif., and worked out at Prolific Athletes, a performance training center. He got the invite in the mail and thought it was fake.
"I thought it was spam mail and I called my agent and told him someone spammed me," Luckett said. "Once he told me it was the real deal, Division I players that didn't get an invite couldn't believe I got one."
Luckett ran track for Harding and it helped his stock. He compared the combine to being a new car.
"Imagine being a new car, you have to showcase yourself," Luckett said. "Everybody wants to see how you field and how proportionate your body and muscles are."
Luckett ran a 4.37 and 4.42 40-yard dash on his Pro Day and had a vertical of 35 ½ inches.
Luckett said his ankle was not 100% after he hurt it in his fourth game of his senior season and it affected his performance at the combine.
"I couldn't spin and do the drills like I wanted to because I was timid," Luckett said. "Sometimes your best performances aren't met but it's not the end of the world."
After the combine, he returned to Searcy and anxiously waited for the NFL Draft on April 30, 2015. Draft weekend, he went to Texas and watched with friends hoping his name would be called.
"Teams would call me and say they were thinking about taking me but never called back," Luckett said. "When my phone rang, everyone would start jumping around. It put me on edge"
Luckett was not drafted and became a priority free agent. He joined the Kansas City Chiefs and was cut a day after final cuts were made. He was on the team through the entire training camp.
After the Chiefs cut him, the San Diego Chargers invited him in October, a few days before they played the Pittsburgh Steelers. The Chargers told Luckett he might play so they gave him a playing number, number 81.
A tragedy struck on the second day Luckett was practicing with the team.
"Second day we were going full speed and I had a go route. I just got there so I had to put on a good impression for the coaches," Luckett said. "I took off and on my fourth step everyone heard a pop. I tore my hamstring."
Luckett returned to Searcy and went to Abraham's Rehab Clinic and healed in three weeks. He had a tryout with the Oakland Raiders the next week.
"It was good, I was fast and explosive. I felt better than ever," Luckett said. "They gave me a good report and contemplated signing me but didn't."
A few weeks went by and he got a call from the Green Bay Packers. After that tryout, he was about to fly home when he got a call from the Buffalo Bills. He had two tryouts back-to-back.
"I was fatigued but I had to perform at the same time," Luckett said. "I caught well, missed a few, but they didn't sign me either."
Luckett's hamstring was an issue in both tryouts. His hamstring knotted up on him where he could not move during the tryout in Green Bay. When he tried out for the Bills, he strained his hamstring on indoor turf.
Luckett got one more chance when the Atlanta Falcons invited him to their minicamp this past January, but Luckett could not land on the squad.
"When you stray away from God, he's going to find a way to bring you back," Luckett said. "I came back to Searcy and got everything together."
Now, Luckett is a personal trainer at Planet Fitness in Searcy. He completed his last semester at Harding University last fall and graduated with a Health and Kinesiology degree.
Luckett had a tryout with the Edmonton Eskimos in Canada a few weeks ago, but he came back to Searcy without a deal.
With the NFL and Canadian drafts about to take place in April and May, Luckett said he would hang up the cleats if he cannot land a spot on any team.
"To be honest, we'll see," Luckett said. "I tell people that you can't pursue it forever."