From ASU Sports
Christopher Graddy, Assistant Director for Athletic Media Relations
JONESBORO – Arkansas State junior defensive back Blaise Taylor has been named one of 88 Football Bowl Subdivision (FBS) student-athletes for the Wuerffel Trophy, presented annually to the nation's top community servant.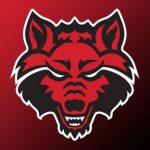 The All Sports Association in Fort Walton Beach Florida presents the Wuerffel Trophy, known as "College Football's Premier Award for Community Service," annually. Named after 1996 Heisman Trophy winning quarterback Danny Wuerffel from the University of Florida, the Wuerffel Trophy is awarded to the FBS player that best combines exemplary community service with athletic and academic achievement.
Taylor has been active in several community service projects since coming to Jonesboro and has been a leader in organizing events for his fellow teammates. Most recently, he and his teammates took part in events that aided Special Olympics, health and wellness education, alcohol and drug awareness and participated in an Autism Walk.
On the field, the Auburn, Ala., native, was named the Sun Belt Conference Player of the Week after he had a career long 73-yard punt return for a touchdown and had a career-high 111 punt return yards against New Mexico State. His punt return for a touchdown was the longest by an A-State player since Kevin Jones return a punt 89 yards in 2007 against Memphis. He finished the year with 322 punt return yards, the second most in school history.
Taylor returned a kickoff 98 yards for a touchdown during the New Orleans Bowl, the longest return and the first returned kickoff for a score in the bowl's history.
Nominations for the Wuerffel Trophy are made by the respective universities' Sports Information departments and will close on October 14. A current list of nominees can be found at www.wuerffeltrophy.org<http://www.wuerffeltrophy.org/> beginning August 1. Semifinalists for the award will be announced on Nov. 3 and finalists will be announced on November 23. The formal announcement of the 2016 recipient will be on December 6 at the National Football Foundation's press conference in New York City. The presentation of the 2016 Wuerffel Trophy will occur at the 48th Annual All Sports Association Awards Banquet on February 10, 2017 in Fort Walton Beach, Florida.
Arkansas State will kick off its season with a home game against Toledo on Friday, Sept. 2. Season tickets for the Red Wolves' 2016 football campaign, which includes six home games, are available for purchase. Arkansas State has strung together 11 consecutive years with a winning home record dating back to 2005 and has won 26 of its last 30 games at Centennial Bank Stadium.