UAM Sports
Devon Lucal, Sports Information Director
EMPORIA, Kan. — The University of Arkansas at Monticello baseball team was taken down in its opening match-up of the 2017 NCAA Central Regional by number one seed Emporia State, 10-8.
Arkansas-Monticello (32-20) struggled out of the gate against the Hornets of ESU (42-11), allowing seven unanswered runs through three total innings of play.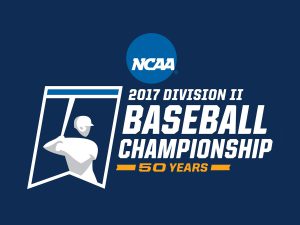 UAM got onto the scoreboard in the top of the fourth after an Andres Rios sacrifice fly to right field brought home Brian Ray to put the score at 7-1 in favor of Emporia State.
The Weevils scored once again in the top of the fifth on a Lathan McFadden solo home run to left center, and by the end of the inning, UAM trailed ESU 10-2 overall.
The top of the eighth saw the Arkansas-Monticello offense begin to catch fire as the Weevils put up three runs in the inning on RBI singles from Guy Halbert, Alex Smith, and Rios to put the score at 10-5.
Ray followed up in the top of the ninth inning with a three-run home run to close the gap to just 10-8, but the offensive attack unfortunately could not complete the comeback, and the Weevils fell 10-8 to the Hornets.
Grant Black started on the mound in the game as he threw just 2.2 innings, and Drake Streeter would come in to provided 1.1 innings of relief work afterwards.
Jared Libke pitched a total of 4.0 innings, and allowed just one earned run, four hits, and totaled three strikeouts to help slow down the offense of ESU.
Arkansas-Monticello returns to action in the NCAA Central Regional tomorrow, Friday, May 19, with first pitch set for 1:15 p.m. against number five seed and arch rival, Southern Arkansas