By Ian Craft
Goals. They are what you dream of. They are what you strive for. They are what you spend your whole life trying to conquer.
For senior Tessa Woodcock, her goal: to make sure no one on the opposing team gets the ball past her to score a goal of a different kind. These goals happen on the field, and Tessa has spent her life making an art out of this sport.
One of the best players to step on the field for Ouachita women's soccer, Woodcock, a kinesiology major from Ft. Worth, Texas has translated her success in the GAC to the next level and done what few OBU athletes get a chance to do: move on to a higher level. Tessa spent the summer playing center back with the club FC Tulsa Spirit of the Women's Premier Soccer League.
"I told my coach I really wanted to play after I graduate,"Woodcock said. "I asked him what my chances were, and he agreed that I could definitely play. So in that case, I wanted to play over the summer and make sure I had as much experience as possible.
"My coach told me about the Women's Premier League, which is an un-paid – but still professional and very competitive – league of girls my age. He emailed a bunch of different coaches around the league and the one in Tulsa just worked best for me. I had a tryout period, and they brought me on."
As a young child Tessa loved soccer. Starting at age three, she played it all through high school. When the time came to choose a school, she became set on Ouachita.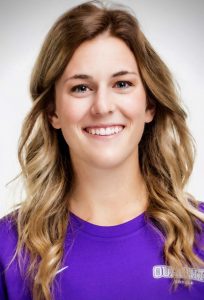 Tessa signed with OBU and immediately saw a role as a defender for the Tigers.
"My OBU career has been really interesting, it's incredibly competitive and challenging," Woodcock said. "Not to mention it's fast paced, for sure. The hardest part has been managing my time on the field with my schoolwork. But don't get me wrong, it's awesome. Some of my best friends are on the team, and I've been able to grow as a person and a player thanks to this team."
Balancing schoolwork and soccer adds a new level of difficulty to the sport, but she says the coaches make it as easy as possible on them.
"It's pretty difficult. The soccer program works hard at it, though. They'll find people and put us in the same classes so we can study together. It brings the team together in a way. Our travel schedule is so weird, it's hard on professors and us. It keeps us accountable. You have soccer, and your free time is for schoolwork."
As a defender, Tessa doesn't get to spend too much time near the other team's goal trying to score. Her role on the Tigers and Spirit is to stay back and be the last wall of defense to protect the goalkeeper from the barrage of scoring that could come their way. Nevertheless, Tessa said her favorite moment of her career involved a time she nailed an incredible goal.
"My sophomore year here at OBU, we were playing in the GAC tournament. We made it to the end and were playing the in the tournament championship game. In the eleventh minute of the game, one of Ouachita's seniors had a free kick and kicked it towards the goal. I jumped up and headed the ball in for the score! It was my first goal that season. After that we stopped any attempt they had at scoring and we won the game! So that goal ended up winning the championship game. That's a great feeling."
With the Tulsa Spirit, Tessa played two games every weekend for two months. As the only Lady Tiger on the team, she has had to adjust to a new style and – most importantly – a new team. With players from all over the U.S., the Spirit featured athletes from Oral Roberts University, University of Incarnate Word and Western Kentucky, among others. This season, the Tulsa Spirit hit a little bit of a rough patch, and the team currently sits at 2-10-1 with 7 points scored on the season. Tessa said this has taught her so much, though.
"It builds character. It has shown me how to push through and fight, especially when I'm dying and I need break. Most importantly, it has taught me how to work well with a brand-new team."
In soccer, you need three things to succeed: good footwork, a pair of slides to wear after games and a great attitude when it comes to teamwork and committing your life to the sport. Tessa knows how important those last two are. Funny enough, Tessa says her teammates make fun of her quite often because she doesn't watch any soccer, but they get along great. If the most casual soccer observer came to Arkadelphia and watched the Lady Tigers play, they would immediately notice how well they play as a team. Being in an amiable environment like this for three years prepared her incredibly well for the challenge of moving up a level in competition this summer.
Playing soccer her whole life, Tessa loves the sport, but knows unfortunately it doesn't receive the attention that the "Big 4" sports do. When asked about how she thinks it could be fixed, her business classes immediately kicked into gear.
"The professional teams can help! The easy solution to the problem is advertising! How many times can you remember seeing advertising for a soccer team. People don't see the sport enough."
Competition, teamwork and a passion for the game, that's what Tessa Woodcock is all about. Her goal is to dominate on the field and prevent the other team's goals. What's yours?
This story was originally published on obusignal.com and reprinted with permission.