A-State Sports
Jerry Scott, Assistant Athletic Director for Media Relations
ROGERS – Trent Jones, a redshirt junior on the Arkansas State men's golf team, recently finished atop the 32-player field at the Arkansas State Golf Association's (ASGA) State Match Play Championship, conducted Aug. 10-13 at the Lost Springs Golf & Athletic Club in Rogers, Ark.
Jones shot a qualifying-round 72, making him the No. 11 seed heading into the match play format.  He claimed five consecutive victories, including a 2&1 win over Luke Long in the title match, to earn medalist honors.
"Winning the State Match Play Championship this week was a great way to end summer and get ready for this fall," Jones said.  "It's so special knowing that my name will be on the trophy along with all the great amateurs who have won this event."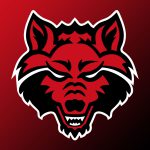 The Jonesboro, Ark., native defeated Michael Chaney by a two-hole margin to begin match play, and then followed with a victory over Chris Needham in the second as he was up by two holes with only one left to play.
It took 19 holes, but Jones was able to claim a quarterfinal victory over Nick Zimmerman to advance to the semifinals, where he defeated Matt Willmott by two holes to set up his championship match with Long.
Jones most recently completed his sophomore season at A-State with a 74.72 stroke average, which was the fifth highest on a team that won three tournament titles and advanced to the Sun Belt Conference Championships' match play semifinals.  He claimed a pair of top-25 finishes, including a season-best tied for 10th place at the Loyola Intercollegiate.