FORT WORTH – The Lyon Scots have increased their win total by three games from the season before in each of the past two seasons and head into Season Four with momentum and a new head coach.
Casey Creehan addressed the crowd gathered in the Fort Worth Club at the inaugural Sooner Athletic Conference Football Media Day about what has caught his attention with the players which he now oversees.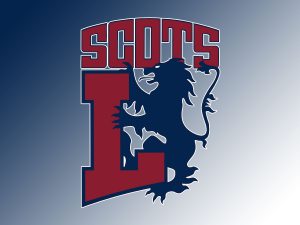 "One of the things that impressed me is how hard these kids are willing to work," Creehan said. "They've been through a lot at this institution, from starting football in dirt lots and no locker rooms and a locker room that's a bunch of hangers.
"These kids immediately embraced our culture as a coaching staff and what we tried to instill. They bought in to that culture and worked very hard. Some really good leaders, including Tre (Hawkins), have aided in that process."
Hawkins, a senior defensive back, accompanied Creehan to represent the Scots at Media Day.
It was announced earlier in the day that Lyon was picked fifth in the preseason conference poll. The Scots finished 2017 with a 6-5 record, a winning campaign for a program in its third year since being reinstated after a 64-year hiatus.
Ignacio Gomez, or "Nacho" as Creehan said he is affectionately called, was named the SAC Preseason Special Teams Player of the Year. Gomez connected on 9-of-12 field goal attempts and 37-of-39 extra-point attempts in 2017 and averaged 39.5 yards per punt.
"There's no kicker in college football I'd rather have than him," Creehan said. "We've put some pressure on him during practice during times, in terms of, 'You make this kick, no conditioning. You miss this kick, conditioning.' And they weren't always easy kicks and he nailed them.
"He did miss one time. And the message to the team that day was that if that ever happens to our football team, no one play ever determines the outcome of the game. At the end of the day, there's no other kicker in the league I'd rather have on our side than Nacho."
Playing under the new leadership, Creehan said it would be hard to say whether the team would hit the ground running, but he spoke about how he will address the team.
"My message to the team will be, 'embrace the grind and cherish every day.' Not everybody gets to play college football and playing at Lyon College is by invitational only.
"I just want for us as a coaching staff and as a football team to embrace the grind and to enjoy the process, to enjoy the journey with each other every day and to work hard every day. You're never going to regret hard work. And I think if we do that, our success as individuals and our success as a group will take care of itself."
Lyon opens the season in St. Louis, Mo., on Aug. 25 at Missouri Baptist. The Scots first home game will also be their first SAC contest as they host Arizona Christian on Sept. 15.